Buy DIETSWELL ENGINEERING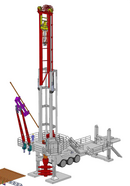 Delivering Dedicated Drilling Solutions to the Oil and Gas industry.
"The World is dangerous by nature and our industry is present in countries that can never be safe forever;
In our business, we always arrive before  or after a revolution.
We need to be higly mobile but we are not Crazy ! In Iraq, we currently send our people to Bassorah, and we pay Safety Teams to protect our people".
Jean Claude BOURDON Executive Vice President DIETSWELL-France
Read More.... www.energyboardroom.com